I usually begin my school day, the moment I step out of the car after my daily driving commute down I-24, with a stroll around campus. Like
D.B. Johnson's Henry
, I prefer
walking
to work.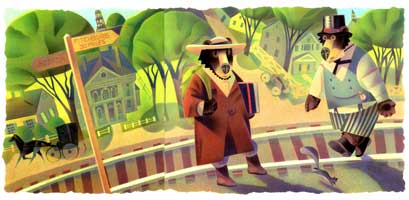 Unlike Henry, I'm not usually hyper-observant of detail during my morning ramble. I tend to be focused on whatever subject awaits classroom discussion, or unfocused and wool-gathering.
But yesterday, for whatever reason (or none), I found myself attending closely to the words at my feet in front of the Student Union. Decade by decade, they record chiseled highlights of the history of our university. I didn't slow long enough to take them all in, but I've decided from now on I'll register a bit more of them each day. Eventually I'll ingest it all, and I'll be just a bit smarter about the institution that butters my bread.
You never step in the same river twice, and there's no reason why you have to cross the same campus twice either. Attention is its own reward: behold, our esteemed president's John Hancock etched in stone.
"Look on my Works, ye Mighty, and despair!" And smile, Ozymandias.